Apples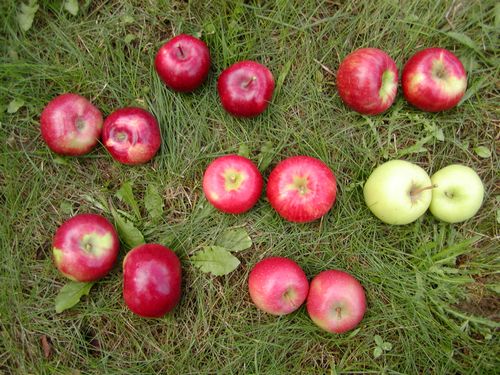 | | | |
| --- | --- | --- |
| Apple Variety | Uses | Harvest Dates |
| Julyred | Eating | mid-August |
| Paulared | Eating and Baking | late August |
| Quinti | Eating and Baking | late August |
| Puritan | Eating and Baking | late August |
| Jerseymac | Eating | early September |
| Early McIntosh | Eating and Baking | early September |
| Redcort | Eating | mid-September |
| McIntosh | Eating, Baking, Sauce: when cooked they do not hold their form, used in pies and applesauses. | late September |
| Macoun | Eating | late September |
| Honeycrisp | Eating | late September |
| Spencer | Eating | mid-October |
| Cortland | Eating, Baking, Drying, Freezing, Salads: when cooked they hold their shape and are firmer than the macs. | mid-October |
| Red Delicious | Eating and Juice | mid-October |
| Golden Delicious | Eating and Baking | mid-October |
Other varieties recently planted but not yet producing in volume include:
Northern Spy, Wolf River, Crispin (or Mutsu), Jonagored, Lucky Jon, Liberty, Empire, Idared, Gala, Spartan, Albemarle (Newton) Pippin, Smokehouse, St. Edmund's Russet, Stayman Winesap, Granny Smith, Ashmead's Kernal, Hawkeye, Keepsake, Chenango Strawberry, Claygate Pearmain, Splendour, Spigold, Ellison's Orange, Elstar, Rhode Island Greening, Duchess of Oldenburg, Nittany, Yellow Transparent, Fameuse, Pink Lady, Baldwin, Northwest Greening, Ginger Gold, Gravenstein, Zestar!, Sweet Sixteen, Snowsweet, Cameo
Look for samples of our new varieties as they ripen during the fall.
Pears
Rowe's has both Bartlet and Clapp pears in production. Two new varieties were planted in 2002 to fill out our pear crop.